The Restaurant
Welcome to our unique little restaurant in Laggan set in the stunning grounds of our home, the old police barracks c1837.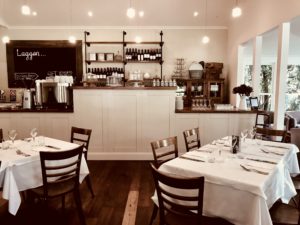 As owner/operators of our small restaurant, we deliver an extremely personal dining experience focusing entirely on your table. We do not overcrowd our restaurant, offering only two sitting times to a restricted number of people – each and every table enjoys a complete and relaxing dining experience.  To ensure this experience, we do rely on the timeliness of our customers and unfortunately cannot accommodate late arrivals.  Bookings are essential, we do not cater for walk-ins.
"With only Evan in the kitchen and Sally front of house our dining experience was so thoughtfully designed and executed. All done just by the two of them… simply sublime".
From our extensive property, our kitchen garden and greenhouse, local suppliers and nearby farms we bring the freshest and most seasonal modern Australian menu.  We are fully licensed offering a comprehensive wine list showcasing neighbouring, local and regional wines, along with a large selection of spirits and liqueurs.  Of course we also offer a range of our own Laggan Brewing Co. beer on tap in the restaurant along with popular bottled beers. BYO IS NOT PERMITTED.
Our restaurant is air-conditioned with a UVC air sterilisation system offering our guests the safest possible dining space but also includes a gas log fire which creates a warmth and atmosphere that is a must to be experienced in winter.  We allocate inside tables for all bookings; however if the weather is kind on the day we can offer another choice of either balcony or garden dining (tables greater than 6 are only catered for inside).